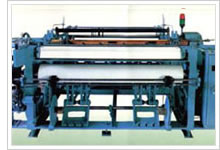 Model AHW-1300 Tinsel Gauze Weaving Machine is made by importing the advanced technology. With the 1980s world advanced gauze weaving technique, the machine fills the vacancy that there is no any gauze weaving equipment in our country and can replace the import ones. The tinsel gauzes weaved by the machine are widely used for the filtering of liquid or gas and the sieving of solid pieces in the industrial department of oil, chemical industry, machinery, military industry, spaceflight etc.

Main characteristics:
I. Adaptability to tinsel: Adapt to variable import and domestic tinsel.
II. Large adjust range: The tinsel gauzes can be weaved out by the machine of not only square holes from 40 to 400 mesh but also special kinds up to 2600mesh, such as plain weave, taper weave. Zooz weave and taper contrast high thickness weve etc and have advantage over ones by other machine.
III. With leading weft shuttleless-straightaway, feeding warp and furling mechanically-automatically and small opening,the gauze surface is smooth, without any bright spot and bright trace on the thick ripple gauze and without any defects. The machine can make high level tinsel fabric products that satisfy the standard of GB5330-85. Its accurancy is up to the second degree.
IV. Lower centre of the gravity, good stablility, low noise and watt consumption, high efficiency.
V. Rational design, simple constrution, easy to operate and maintenance.


Main technical data:
I. Width of fabric: to 1300mm
II.Aperture: 40-400mesh(square holes gauze);2600mesh(special gauze)
III. Crank shaft rotating speed: 72rpm
IV. Power of motor: 1.5KW; Rotating speed of motor: 1450rpm
V.Total weight: 2700kg
VI. Total measurement: 2600x2800x1200mm